PIT@UMass Faculty Fellowship - 2023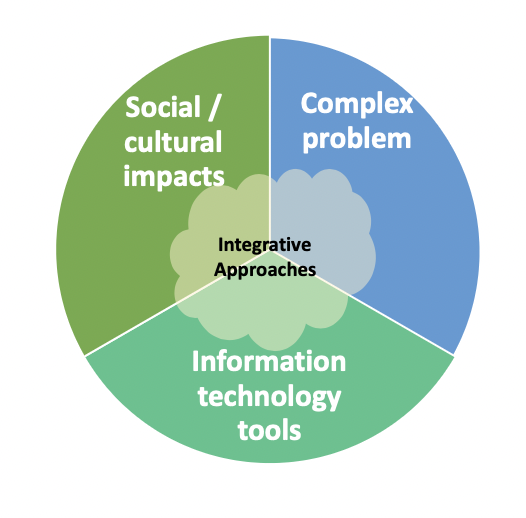 The Public Interest Technology Initiative at UMass is excited to announce the recipients of its 2023 Faculty Fellowship Program. Fellows will receive seed funding to support their projects, all aimed at addressing and potentially solving a complex problem with public interest impacts and reducing social disparities through the responsible and ethical use of information technologies.
This Fellowship focuses on building public interest-focused interdisciplinary research that explores PIT questions and integrative solutions. In particular, recipients were selected whose research
Addresses a complex problem with public interest impacts (privacy, safety, security, equity, sustainability, ethical behavior, etc.)
Involves the responsible use of information technologies
Reduces, rather than exacerbates, cultural, economic, and other societal disparities
Each Fellowship will provide seed funding to a research team to support the groundwork or strengthen ongoing work that will ultimately be submitted for external funding.  
Throughout 2023, the Fellows will meet as a cohort for monthly talks where they can discuss their work, participate in an intensive focused on proposal development by the Vice Chancellor for Research and Engagement's office, and work across campus and the broader PIT network to advance their projects.
The following nine faculty members and their respective projects and teams were selected:
Project Title: Voice-enabled Conversational Journaling for Parkinson's Disease Patients
Project Lead: Ali Sarvghad, Manning College of Information and Computer Sciences (CICS)
In this project, the team will design, build and evaluate a voice-enabled conversational health journaling system for Parkinson's Disease patients. Using voice will lower the access barrier for patients with difficulty using a mouse and keyboard due to reasons such as hand tremors. The AI-driven conversational data collection model will enrich the depth and breadth of self-reported health data by simulating and sustaining a medically relevant dialogue with the users.
Project Title: Bilingual Personalized Digital Tutors for Mathematics Learning
Project Lead: Ivon Arroyo, CICS
This project involves making MathSpring (
https://ms.advancedlearningtech.com
), an online multimedia K-12 mathematics tutoring/learning technology created with NSF support, dual-language, making it accessible and appealing to an increasingly bilingual Latinx population. We will collect pilot data in Schools/Afterschool programs in Holyoke, MA, where children will be able to "switch to spanish", changing the language of word problems, as well as the language of its pedagogical avatars, who now become bilingual, just like them.
Project Title: A Computational Perspective on Sequential Fair Allocation Mechanisms
Project Lead: Yair Zick, CICS
The objective of Yair's work is to find ways to fairly divide items among agents with differing preferences. These problems naturally arise in a variety of application domains, such as assigning reviewers to papers, courses to students, or shifts to hospital workers. He is particularly interested in sequential approaches to fair allocation, where we allow users to take actions in turns. Sequential approaches yield simple, fast and effective algorithms that guarantee fairness and efficiency.
Project Title: Another Care is Possible: Art, Ethics, and Health Technologies
Project Lead: Jess Dillard-Wright, Elaine Marie College of Nursing
In the context of life, reproductive, and death decisions, communication between caregivers, care receivers, and communities has ethical implications linked to the power and knowledge differentials that structure professionalized care. With the PIT fellowship the team will address communicating complex ideas, the use of black boxed technologies in/as healthcare and for health, and new material/care ethics in accountable and community-focused ways, focused on reproductive health and death care.
Project Title: What Counts Count? How Information about Racial Disparities Informs the Public's Evaluations of District Attorneys
Project Lead: Kelsey Shoub, School of Public Policy
In "What Counts Count? How Information about Racial Disparities Informs the Public's Evaluations of District Attorneys," Kelsey Shoub (School of Public Policy) will examine whether the selection of information on racial disparities and its presentation affects evaluations of and confidence in local district attorneys in a set of survey experiments. She is collaborating with Jamie Rowan (Legal Studies and Political Science), Youngmin Yi (Sociology), and Cindy Xiong (CICS).
Project Title: Auto-mating race and gender inequalities? Analyzing AI design in automated vehicles
Project Lead: Laurel Smith-Doerr, Institute for Social Science Research
Studies of AI inequalities have not often attended to organizational contexts in which tech is developed. This project addresses the gap by engaging with developers of automated vehicle design, and workers affected by automation including long haul truckers, via photovoice methods. How do AI developers picture their work and imagine the race/gender of users? How do truck drivers picture their work and discuss the future of trucking? A proposed interdisciplinary NSF project would have implications for gender and race diversity in trucking through more universal design, investigating how trucking could remain a good job while integrating automation.
Project Title: Exploratory Study for the Development of a Social Vulnerability Scoring System to Inform Equitable Maternal and Child Healthcare Resource Allocation in Massachusetts
Project Lead: Muge Capan, College of Engineering
Healthcare disparities are related to economic and societal disparities. Specifically in maternal and child health, the disproportionate distribution of healthcare resources combined with social conditions impact health outcomes of mother and baby. The goals of this project are to risk-stratify social vulnerability and healthcare disparities through the responsible use of health systems engineering and information technologies and support public health officials in equitable resource allocation decisions for maternal and childcare.
Project Title: Help Gig Workers Learn using Their Own Data
Project Lead: Song Gao, College of Engineering
The project aims to generate behavioral insights and algorithmic tools for a ride-sourcing driver cooperative (COOP) to enable effective driver organization and eventual market efficiency and enhanced societal welfare. COOP drivers share passive location and operation data, and receive optimized and coordinated guidance on tactical and operational decisions to maximize their welfare. Agencies and communities partner with COOP to gain insights and design policies using data provided directly by drivers.
Project Title: Animating Family Well-being
Project Lead: Jeffrey Kasper, Department of Art 
Jeffrey Kasper is directing a design team of undergraduate and graduate students, in collaboration with physicians from Baystate Medical Center, Springfield-area parents, and educators, on an ongoing series of bilingual animated videos. Initiated by Stephen Boos, MD, the community-engaged media prompts healthy child development and family well-being. The project communicates practices crafted by parents, and grounded in science, such as how to deal with the loss of emotional regulation throughout early childhood.