"CommunityBots: Creating and Evaluating A Multi-Agent Chatbot Platform for Public Input Elicitation" was accepted to CSCW 2023
Authors: Zhiqiu Jiang, Mashrur Rashik, Kunjal Panchal, Mahmood Jasim, Ali Sarvghad, Pari Riahi, Erica DeWitt, Fey Thurber, Narges Mahyar.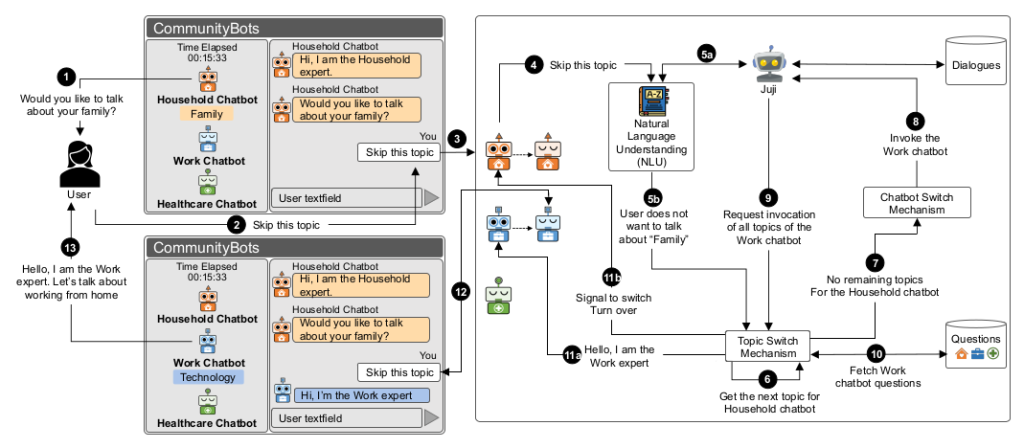 This figure presents CommunityBots' system overview. We use an example to guide through the process of user interactions with multiple chatbots: 1) The Household chatbot asks the user questions about their family life; 2) The user responds that they want to skip the current topic; 3) The Household chatbot receives user's response "Skip this topic"; 4) The Household chatbot forwards the user's response to Juji's NLU module; 5a) Juji uses NLU to identify the user's engagement level; 5b) NLU determines that the user doesn't want to talk about the current topic and passes this conclusion to CommunityBot's Topic-Switch Mechanism; 6) Topic-Switch Mechanism determines which topic to change the conversation to; 7) Since there are no remaining topics for the Household chatbot to converse, the Topic-Switch Mechanism asks the Chatbot-switch mechanism to switch from the Household chatbot to the next chatbot in queue; 8) Chatbot-switch mechanism determines that the next chatbot to converse with the user is the Work chatbot; 9) Juji notifies the Chatbot-switch mechanism about the Work chatbot invocations; 10) The Chatbot-switch mechanism fetches the questions related to the Work chatbot; 11a) The Chatbot-switch mechanism "wakes up" the Work chatbot on user's screen and passes the next question to be asked; 11b) At the same time, the Chatbot-switch Mechanism puts the Household chatbot in a inactive state; 12) The question asked by the Work chatbot is displayed on user's screen; 13) The user proceeds to talk to the new chatbot.
You can find the paper here.